José Ortiz de Zárate: in memoriam (1913-2008). A life in pottery.
18 May, 2008 - 12:00
-
31 January, 2010 - 12:00
On the occasion of the 15th anniversary of the opening of the Museum and following the recent death of the master potter of Ollerías, we would like to pay tribute to his memory and remember his work with this exhibition.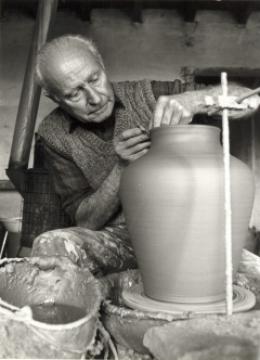 José Ortiz de Zárate was born in 1913 in the Ollerías neighbourhood in Elosu "into a family of pot and pan makers" as he liked to say. The family was a large one and it was José, the oldest son, who learnt his father's trade and carried on the family tradition. Nevertheless two events were to interrupt his career: the Spanish Civil War which broke out in 1936 and the construction of the Urrunaga Dam in 1958.
Just as in nearby towns, both people and property suffered during the air raids on the Ollerías neighbourhood during the Civil War. They were tough years, but after many trials and tribulations he was able to resume his trade in 1941.
The building of the Urrunaga Dam and its reservoir meant that the land which produced the clay he used became flooded. As a result he had to close his pottery shop.
In 1960 José took up livestock farming and once he had retired went back to his original trade as a potter. He liked working with clay and he spent another 25 years producing ceramics. He also tirelessly taught the trade to numerous students until his death in Ollerías on 3 April 2008 at the age of 94.
José Ortiz de Zárate's great cultural legacy for pottery in the Basque Country is the passing on of his knowledge to a new generation which is today following in his footsteps. He made it possible for a craft trade to continue, a trade he received from his forebears more than 80 years ago and which history tells us has existed in Ollerías in Álava province for more than 1,000 years.